Data and findings
Current data
As of September 1st 2020, Fish Trek contained original data for 106,581 individually tagged fish representing 42 various species.
Based on submissions of recovered tags, the origin of 469 individuals could be determined: 373 submissions came from the Elbe system and two from the Baltic Sea. A further 44 tagged eels were detected in the Fulda during electrofishing efforts and two eels were detected downstream in the River Weser. Thirty-one fish of various species have been reported from the River Rhine upstream of Basel, 12 from the Diemel, and five from the Wupper.
We would like to take this opportunity to thank all anglers and fishermen, fish mangers, restaurants, cooks, as well as attentive walkers who have all been contributing to this database by sending in tagged fish or tags!
Furthermore, 263 individual tag codes representing fish of unknown origin have been registered by automatic antennas so far.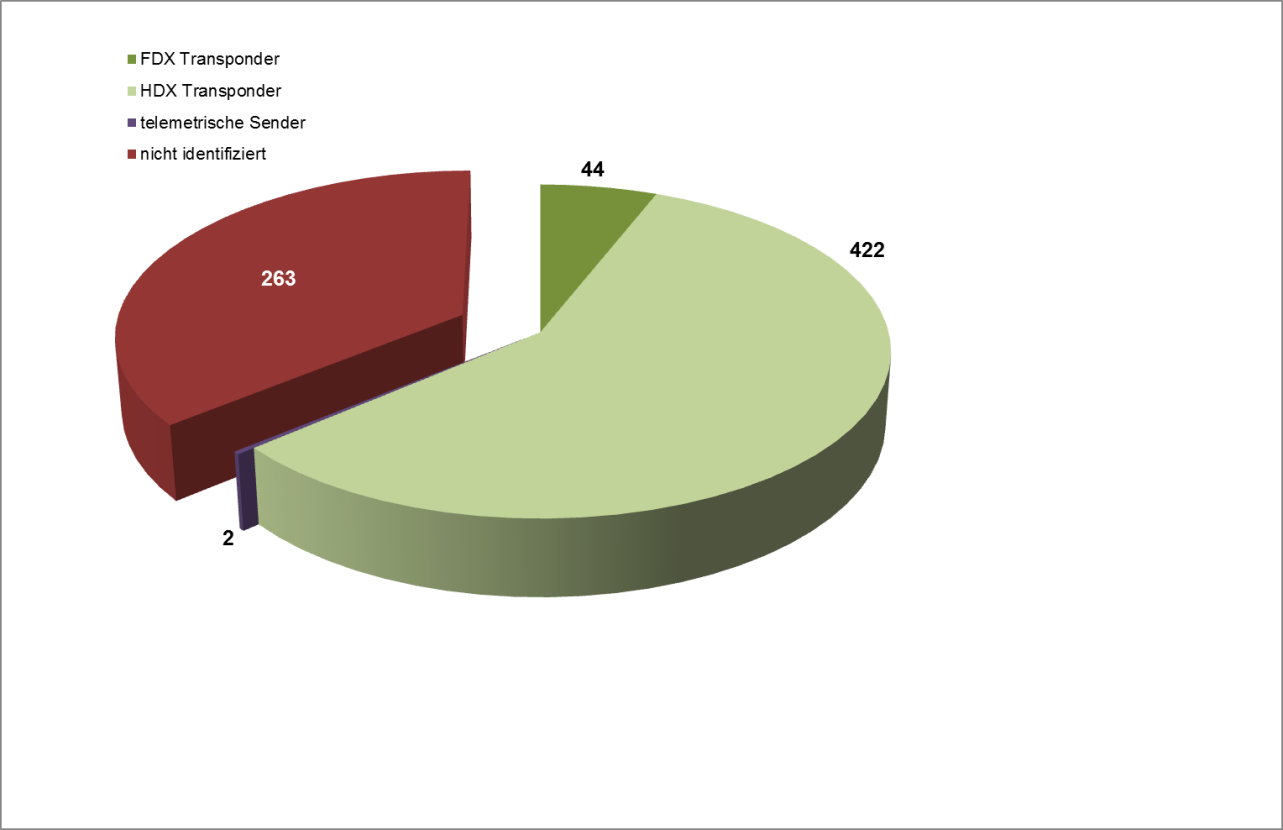 Which species have been reported?
The master list of individually tagged fish that is contained in the Fish Trek database so far includes references to 42 different species, only 27 of which have been reported, representing mostly edible fish. The majority of recovered tags were used to mark pikeperch, silver eel, sea trout, and brown trout. In contrast, tagged salmon, catfish, zope, and white bream have each been reported only once so far.
The map below indicates the locations of release and recovery of individually tagged fish.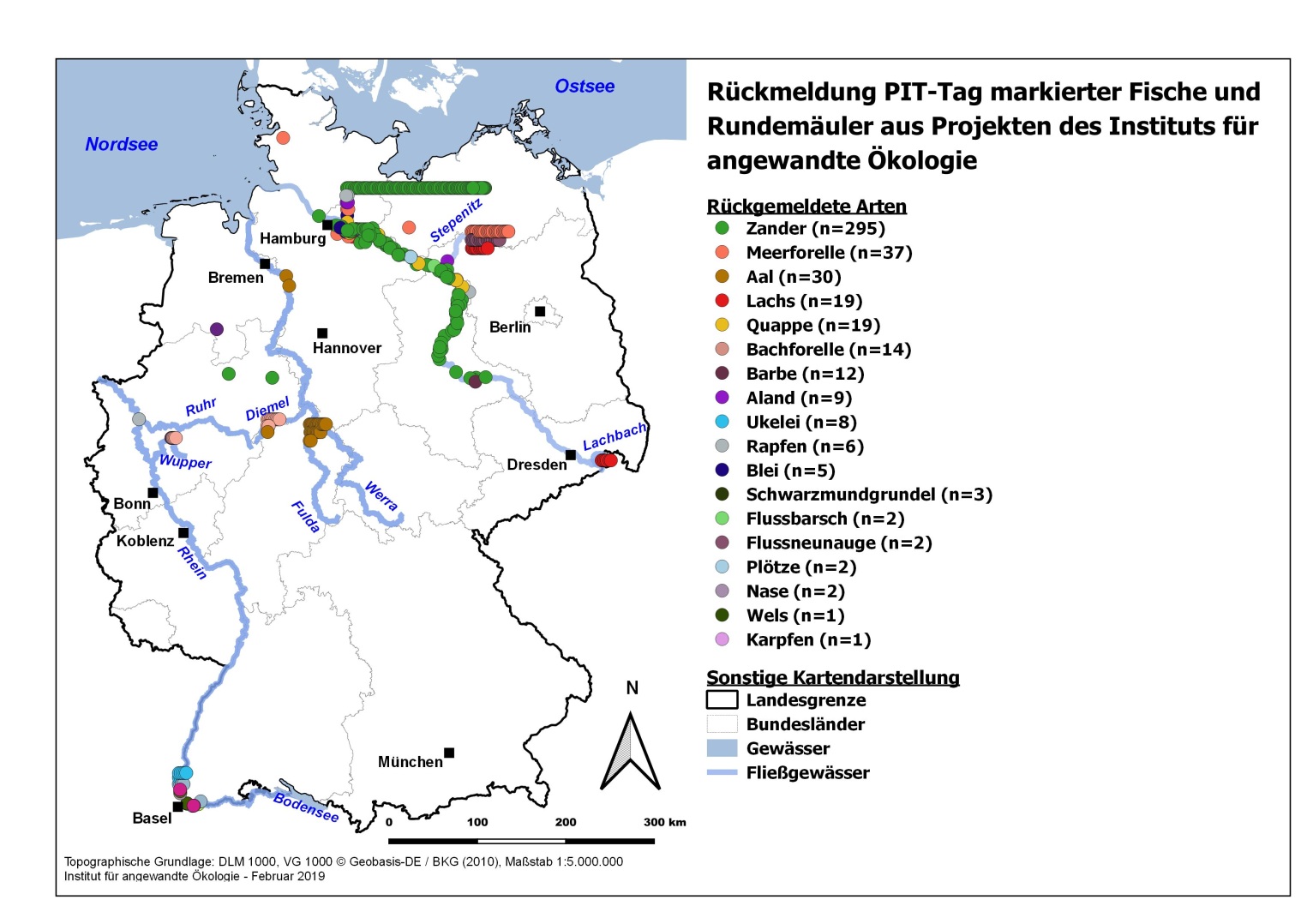 Unsurprisingly, anadromous species such as salmon, river lamprey and sea trout migrate over great distances. However, recovery of tags from potamodromous species indicate a range of activity up to several hundred kilometers. For example, it has been determined that barbel travelled distances of more than 300 kilometers in the river Elbe. The pikeperch, commonly described as a "resident" fish in many publications, has been found to cover distances of more than 500 kilometers.
species

migration distance

upstream

downstream

Salmo salar

Atlantic salmon

660 km

–

Sander lucioperca

pikeperch

516 km

51 km

Barbus barbus

barbel

334 km

–

Lampetra fluviatilis

river lamprey

207 km

–

aspius

aspe

188 km

30 km

 Lota lota

burbot

159 km

9 km

Salmo trutta f. trutta

sea trout

155 km

212 km

Leuciscus idus

ide

135 km

Perca fluviatilis

perch

114 km

–

Rutilus rutilus

roach

82 km

–

Abramis brama

bream

4 km

20 km

Neogobius melanostomus

Black-mouthed goby

1,5 km

–

Cyprinus carpio

carp

–

6 km

Anguilla anguilla

silver eel

78 km
Even on dam-controlled rivers, fish migrate over impressive distances, as illustrated by reports of two barbel which were tagged and released by "Saumon Rhin" in 2018 in the tail water at the Gambsheim barrier on the Rhine. These individuals each travelled more than 160 kilometers in one year, overcoming no less than 10 barriers.
How much time elapsed between release and recovery?
So far, the individual that has lived the longest between tagging and capture was an ide. It was tagged and released in the tail water of the Elbe River weir in Geesthacht on March 23, 2012 at a length of 44 centimeters and a weight of 1.315 grams. It was captured by an angler 3,068 days later (8.4 years) on August 21, 2020. In the meantime, this spawner had gained eight centimeters in length and a little over a kilogram in weight.
Even though the location where was captured is only a few kilometers downstream from the location where it was originally released spot, it was detected several times by antennas at the fish migration facilities at the weir in Geesthacht during the years between tagging and capture, as reported in its "travel journal", below.
travel journal:

Aland (Leuciscus idus) Code: 174754626

Ide (Leuciscus idus)

detected when?
Where detected by antennas?

23. 03. 2012 tagged

16. 04. 2012

10:22 – 14:43 Uhr

Double slot fish pass at the weir Geesthacht/Elbe

18. 04. 2012

16:56 – 17:10 Uhr

Bypass channel at the weir Geesthacht/Elbe

16. 01. 2013

11.34 – 12.24 Uhr

Bypass channel at the weir Geesthacht/Elbe

09. 08. 2015

08:41 Uhr

Double slot fish pass at the weir Geesthacht/Elbe

30. 09. 2015

14:34 Uhr

Double slot fish pass at the weir Geesthacht/Elbe

27. 03. 2016

14:20 – 14:22 Uhr

Double slot fish pass at the weir Geesthacht/Elbe

21. 04. 2016

19:20 Uhr

Double slot fish pass at the weir Geesthacht/Elbe

15. 05. 2015

19:41 Uhr

Double slot fish pass at the weir Geesthacht/Elbe

21. 08. 2020 last detection
Fate of individuals
Rückmeldungen von markierten Fischen liegen auch aus isolierten Abgrabungsgewässern in Niedersachsen und Nordrhein-Westfalen vor. Diese Exemplare waren nachweislich in der Elbe markiert besetzt worden, bevor sie von Berufsfischern gefangen, als Besatzmaterial verkauft und in isolierte Angelgewässer verbracht worden sind.
Reports of recovery of individually tagged fish have also come from isolated lakes in Niedersachsen and Nordrhein-Westfalen. These specimens were tagged and released in the Elbe River, before being caught by professional fishermen, sold as stock fish, and release into these isolated lakes.
A curious story occurred when a pikeperch that was originally tagged and released in the Elbe river, was sold at the Hamburg fish market as originating "from Bodden waters in the Baltic sea, near the island Rügen". As no connection between the Elbe River and the claimed harvest location exists, claim of the fish's origin was proved false.