How much time elapsed between release and recovery?
So far, the individual fish that has lived the longest between tagging and capture was an ide. It was tagged and released in the tail water of the Elbe River weir in Geesthacht on March 23, 2012 and measured 44 centimetres in length and weighed 1.315 grams. It was recaptured by an angler 3,068 days later (8.4 years) on August 21, 2020. In the meantime, this spawner had gained eight centimetres in length and a little over a kilogram in weight.
Even though the location the ide was captured is located only a few kilometres downstream from its original release position; meaning the spot where it was released after tagging; it was detected several times by antennas at the fish migration facilities at the weir in Geesthacht during the years between tagging and capture, as shown in its "travel journal" below.
travel diary for:
Aland (Leuciscus idus) Code: 174754626
Ide (Leuciscus idus)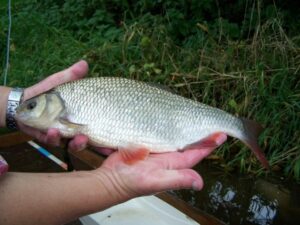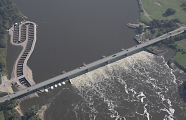 | when registered? | time | Where automatically registered by antennas? |
| --- | --- | --- |
| 23. 03. 2012 | | marked |
| 16. 04. 2012 | 10:22 – 14:43 o'clock | Double slot pass at the Geestacht/Elbe weir. |
| 18. 04. 2012 | 16:56 – 17:10 o'clock | Bypass channel at the Geesthacht/Elbe weir. |
| 16. 01. 2013 | 11.34 – 12.24 o'clock | Bypass channel at the Geesthacht/Elbe weir. |
| 09. 08. 2015 | 08:41 o'clock | Double slot pass at the Geestacht/Elbe weir. |
| 30. 09. 2015 | 14:34 o'clock | Double slot pass at the Geestacht/Elbe weir. |
| 27. 03. 2016 | 14:20 – 14:22 o'clock | Double slot pass at the Geestacht/Elbe weir. |
| 21. 04. 2016 | 19:20 o'clock | Double slot pass at the Geestacht/Elbe weir. |
| 15. 05. 2015 | 19:41 o'clock | Double slot pass at the Geestacht/Elbe weir. |
| 21. 08. 2020 | | letzter Nachweis |
| when registered? | time | Where automatically registered by antennas? |